Proquimia's ASEPCOL extends its virucide status and is included in the Ministry of Health's list of virucides
This alcohol-based disinfectant, suitable for food contact surfaces, has been recognised as effective against SARS-COV-2 by the Ministry of Health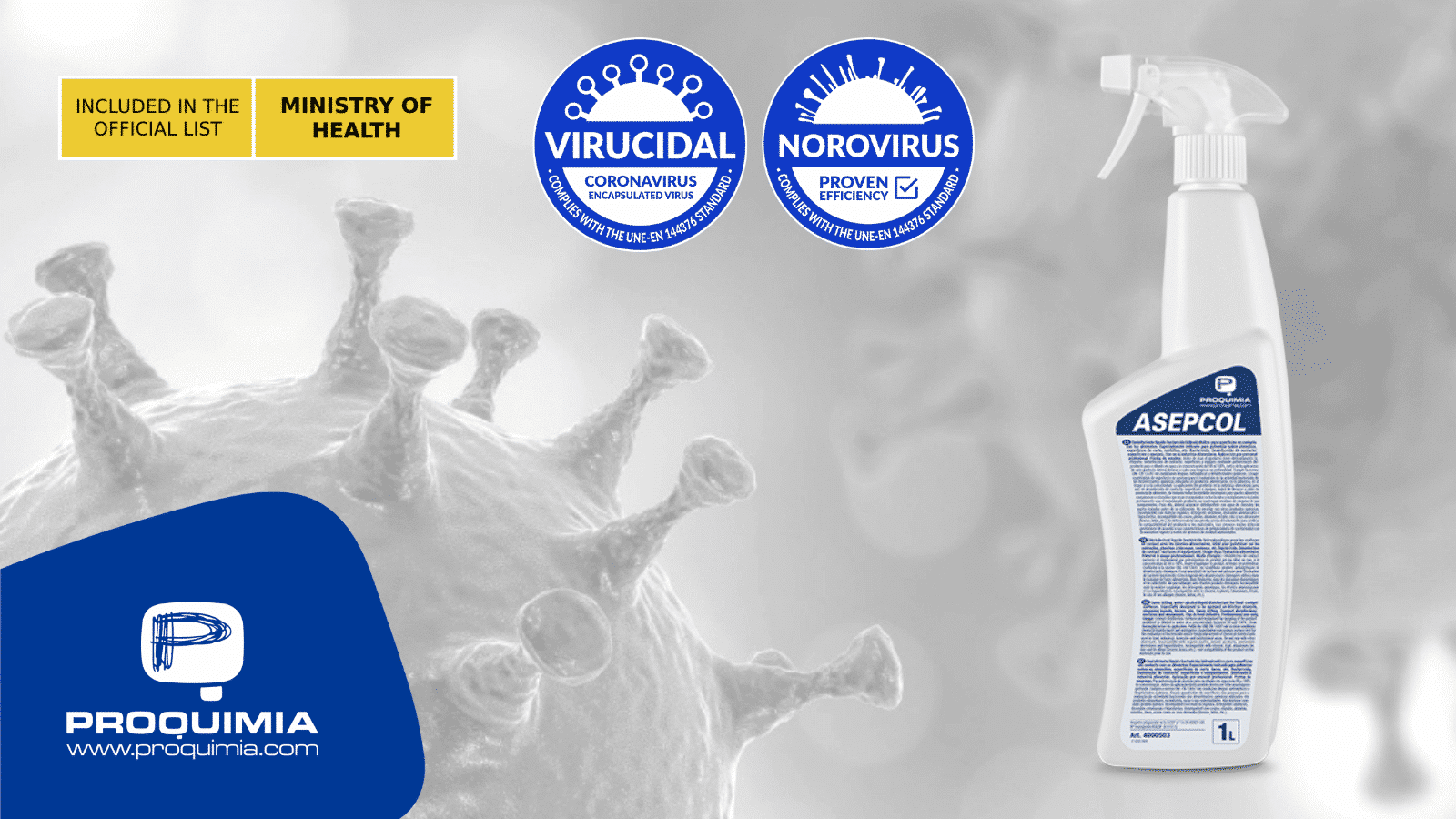 A few days ago, the Ministry of Health published a new revision of the List of Virucidal Products authorised in Spain, which has been developed since the beginning of the pandemic and which includes disinfectants that have demonstrated efficacy against COVID-19, in compliance with the UNE EN 14476 standard. In the latest version of the list, the Ministry of Health has included a new product from Proquimia's catalogue, ASEPCOL, an alcohol-based disinfectant for food contact surfaces (PT4).
In addition, by complying with the complete UNE EN 14476 standard, ASEPCOL has been able to extend its use to that of a virucide (/90), as can be seen on this website, with registration number 21-20/90- 02821-HA.
Therefore, with the addition of this product, the list of Proquimia's disinfectant products available on the Ministry of Health's List of Virucides is as follows, classified according to their active ingredient:
Quaternary ammonium compounds
ASEP AQ10 (PT4)
DEOBACT D (PT4) + CONPACK packaging
Trialkylamines
Alcohol-based/Surfaces
ASEPCOL WHO (PT2 and PT4), with outstanding registration
ASEPCOL (PT4)
Alcohol-based/Antiseptics for healthy skin
Chlorinated
Although not specifically mentioned, the list includes chlorinated products based on sodium hypochlorite which are registered as pesticides (e.g. HALONET, VIXCLOR, ALUVIX, COMBIPLUS, ECOPLUS, BRAVOCLOR, ….).
In the current circumstances, it should be borne in mind that it is even more important to ensure that food surfaces are disinfected with a disinfectant that has proven virucidal efficacy.
Do you want more information?
We help you
In accordance with Regulation 2016/679 (GDPR) the basic information on personal data protection is provided below:
- Data controller: PROQUIMIA, S.A.
- Purpose of processing: Managing the sending of information, resolving queries and/or collecting data for possible business relationships.
- Legal Basis: Consent of the person concerned
- Recipients: No data will be transferred to third parties, unless this is legally obliged.
- Rights: Access, rectification, deletion, opposition, limitation, portability and presentation of claims.
- Additional information: Additional and detailed information on Data Protection can be found on our website: Privacy policy
Do you want more information?
We help you