CONPACK BAC, the new disinfectant of Proquimia, obtains biocide registration and is included on the Ministry of Health's list of virucidal products
It is a highly concentrated disinfectant detergent, suitable for cleaning and disinfecting all types of surfaces, toilets and floors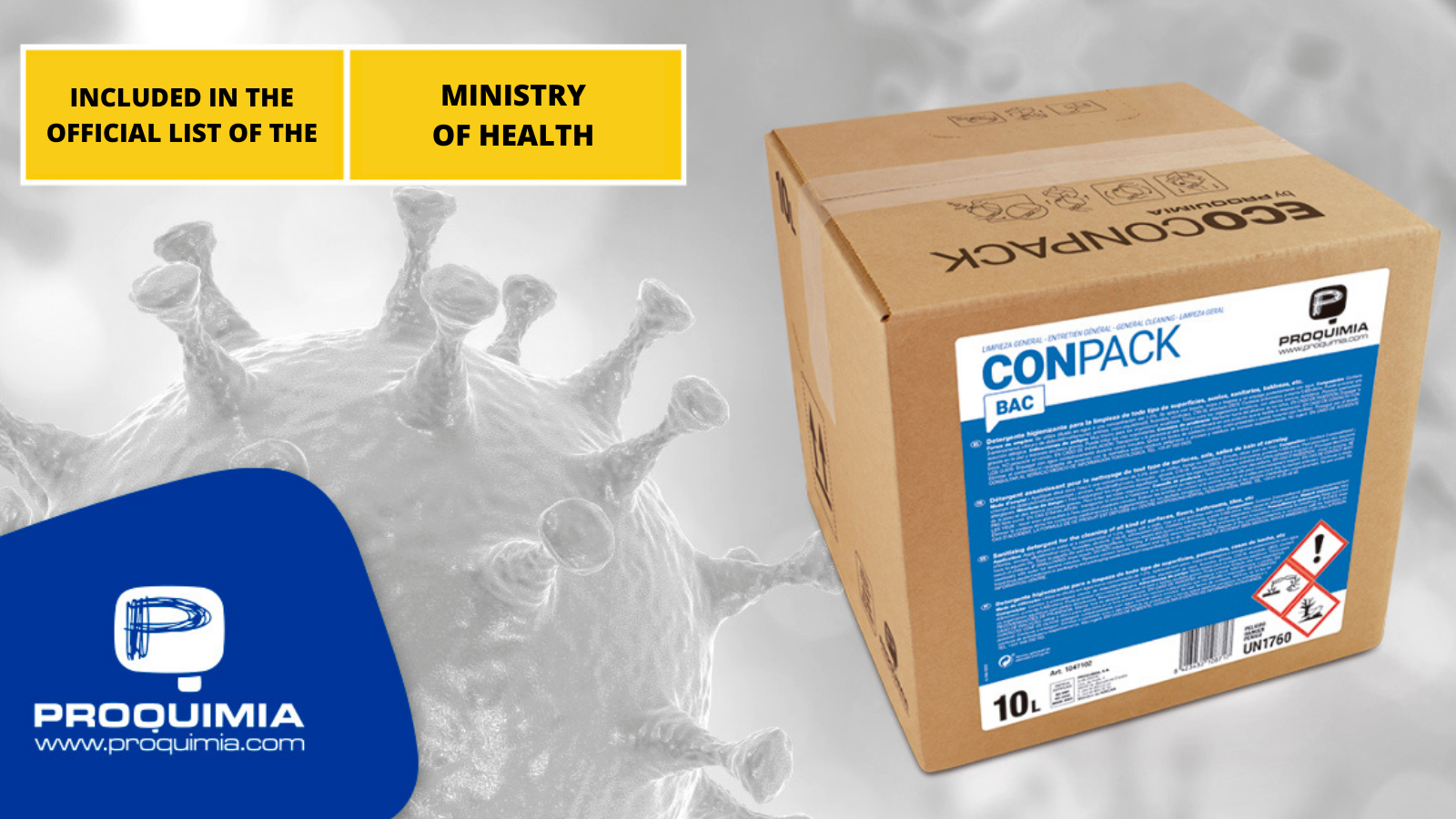 The Ministry of Health has included Proquimia's new CONPACK BAC on its list of environmental biocides and HA registered products in Spain, in accordance with the UNE-EN 14476 standard. CONPACK BAC has been included in the latest update to this official document, with registration number 20-20/40/90-10515.
CONPACK BAC is a disinfectant and deodorizing detergent, suitable for cleaning all types of surfaces, toilets, tiles, etc. It is applied by contact disinfection: surfaces by spraying with a trigger sprayer, cloth or scourer with the product diluted in water, making sure to follow the indicated contact times.
CONPACK BAC is the latest addition on the list, which already contains several of the company's other disinfectants: CONPACK DISINFECTANT PLUS, ASEPVIX and CONPACK ASEPVIX and ASEP TA 35.
Furthermore, Proquimia's VITA ASEPGEL and VITA ASEPSOL products were also included in the official list of antiseptic products for healthy skin, in recognition of their virucidal properties for coronavirus. This list has been developed by the Spanish Agency for Medicines and Healthcare Products (AEMPS) since the beginning of the pandemic.
Under the current circumstances, it is more important than ever to ensure that surfaces are disinfected with a product that has proven virucidal effectiveness, especially surfaces those where multiple contacts occur.
Do you want more information?
We help you
In accordance with Regulation 2016/679 (GDPR) the basic information on personal data protection is provided below:
- Data controller: PROQUIMIA, S.A.
- Purpose of processing: Managing the sending of information, resolving queries and/or collecting data for possible business relationships.
- Legal Basis: Consent of the person concerned
- Recipients: No data will be transferred to third parties, unless this is legally obliged.
- Rights: Access, rectification, deletion, opposition, limitation, portability and presentation of claims.
- Additional information: Additional and detailed information on Data Protection can be found on our website: Privacy policy
Do you want more information?
We help you