Virucidal efficacy of disinfectant products: EN14476 standard


The European and state legislative framework in relation to disinfectant products is regulated by Regulation (EU) No. 528/2012 on biocides (known as BPR – Biocidal Products Regulation-) and Royal Decree 3349/1983, of 30 November, approving the Technical-Sanitary Regulations for the manufacture, marketing and use of pesticides, respectively.
Disinfectants with pesticide/biocide registration
As established by the above legislation, any disinfectant product must have the corresponding pesticide/biocide registration granted by the competent authority, specific for the application for which it has been developed (disinfection of hands, food/non-food surfaces, textiles, drinking water, etc.).
Test methods for demonstrating disinfectant efficacy
The test methods to demonstrate the disinfectant efficacy of a product, which guarantee sufficient reduction of micro-organisms, are well defined by the above regulatory framework.
The European Biocidal Products Regulation (BPR), in its Guidance on the BPR: Volume II Parts B+C Version 3.0 April 2018), sets the reference standards for each claimed biocidal activity (bactericidal, fungicidal, levuricidal, virucidal, sporicidal, etc). Specifically, the test established by the BPR to evaluate the virucidal efficacy of disinfectant products is the European standard EN14476(Chemical disinfectants and antiseptics. Quantitative suspension assay for the evaluation of virucidal activity in the medical area. Test Method and Requirements (Phase 2/Step 1)).
Therefore, in order to obtain registration of a disinfectant product claiming virucidal properties, it will be necessary to provide efficacy tests carried out according to this standard.
Viricidal efficacy
The EN14476 standard is performed against three viruses: Poliovirus type 1, Adenovirus type 5 and Murine norovirus. If the product demonstrates virucidal efficacy against these three viruses (equivalent to a 99.99% reduction of microorganisms – logarithmic reduction of 4 units), "general virucidal activity" can be claimed, which means that the product is effective against all types of viruses. This is because the three non-encapsulated viruses above are highly resistant to the action of disinfectants and, therefore, when a disinfectant product is effective against them, it can be considered that it will be effective against all types of other untested viruses.
However, of the above viruses, Poliovirus is much more resistant than the other two. Therefore, if a product passes the tests only for Norovirus and Adenovirus, but not for Poliovirus, it is attributed "limited virucidal activity", which is equivalent to saying that it is effective against all types of enveloped viruses, plus Adenovirus, Norovirus and Rotavirus.
There is also the option of performing the assay against other species/strains, such as encapsulated viruses (Vaccinia Ankara -MVA-, Human Immunodeficiency Virus-HIV-, Influenza A H1N1, etc.) which will allow claiming only "limited virucidal activity against enveloped viruses".
Viricidal efficacy against Coronavirus
Any product with "general virucidal activity", "limited virucidal activity" or "limited virucidal activity against enveloped viruses" according to EN 14476 is effective against enveloped viruses, such as all the viruses of the Coronavirus family and in particular SARS-CoV-2.
The lipid envelope of Coronaviruses makes them very sensitive to desiccation, heat and detergents or disinfectants, which dissolve the membrane lipids, inactivating the virus. Therefore, due to the high susceptibility of Coronaviruses, chemical disinfection is an excellent and effective mechanism to prevent transmission and infection.
As an example, the attached table summarises the viricidal disinfectant efficacy tests carried out according to EN14476 against different enveloped and non-enveloped viruses, with the quaternary ammonium-based disinfectant CONPACK DESINFECTANTE PLUS (Pesticide Registration 19-20/90-06398 HA and 20-20/90-06398). The results clearly show the high sensitivity of enveloped viruses, and in particular Coronaviruses, to chemical disinfection, requiring very short contact times and very low use concentrations to achieve inactivation.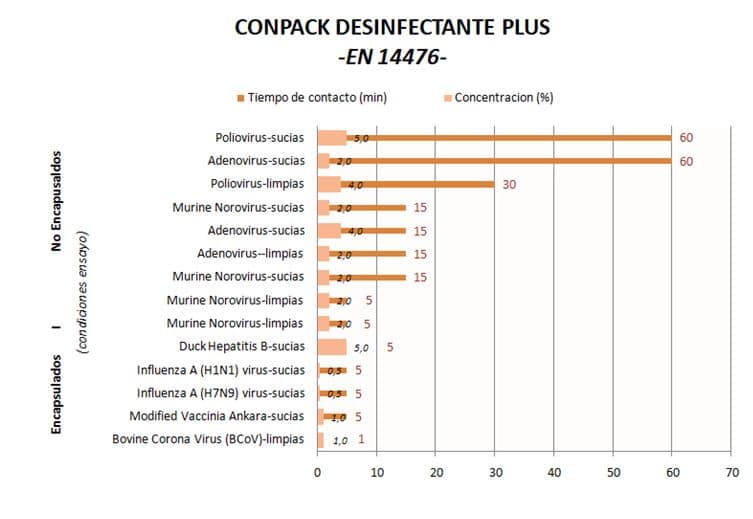 On the contrary, non-enveloped viruses are more adaptable to disinfectants, since they do not have a lipid envelope, are physiologically and morphologically simpler, and therefore more adaptable.
Therefore, all disinfectant products that, according to the EN14476 standard, have demonstrated virucidal activity against viruses, whether enveloped or non-enveloped, are fully suitable for the disinfection protocols to be implemented to avoid the risk of spreading Coronavirus.
Bibliographic references:
EN14476 Antiseptics and chemical disinfectants. Quantitative suspension assay for the evaluation of virucidal activity in the medical area. Test method and requirements (Fase 2/Etapa 1)
https://www.proquimia.com/validacion-de-protocolos-de-limpieza-y-desinfeccion-de-superficies-frente-al-coronavirus/
Author: Carles Bertrana
Do you want more information?
We help you
In accordance with Regulation 2016/679 (GDPR) the basic information on personal data protection is provided below:
- Data controller: PROQUIMIA, S.A.
- Purpose of processing: Managing the sending of information, resolving queries and/or collecting data for possible business relationships.
- Legal Basis: Consent of the person concerned
- Recipients: No data will be transferred to third parties, unless this is legally obliged.
- Rights: Access, rectification, deletion, opposition, limitation, portability and presentation of claims.
- Additional information: Additional and detailed information on Data Protection can be found on our website: Privacy policy
Do you want more information?
We help you