Integrated solutions
The development and innovation phase is only the starting point of any new system generated by the company. In order to ensure maximum guarantees of success in the market, it is necessary to have a technical and commercial structure with a broad knowledge of the application processes and with an approach perfectly oriented to customer satisfaction.
For this reason, the comprehensive service offered by PROQUIMIA is a fundamental and strategic element of our value-based proposition, based on the following axes: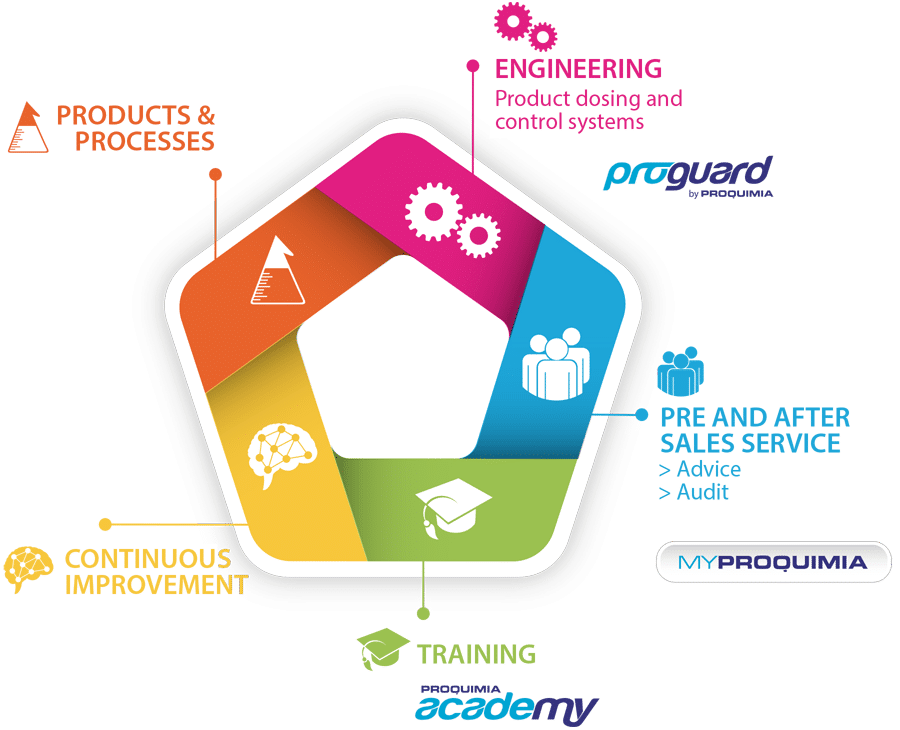 Products/ Processes
Quality
Safety
Sustainability



Engineering
Design and implementation of product dosing and control systems, safety and telemetry.



Customised training
Process control, safety and product handling. Our own training platform, PROQUIMIA Academy.



Continuous improvement
Continuous advice for the improvement of processes and optimization of resources.



Pre and after-sales service
—
Analysis and testing service for initial audits or process monitoring audits:
- Physical-chemical analysis: process baths, wastewater, process water, water for human consumption and other analyses.
- Microbiological analysis of surfaces and environment.
- Process quality tests.
—
Advice on the design of industrial processes and facilities:
Products, procedures, control systems and any type of requirement.
—
Advice on the implementation of international standards:
ISO, HACCP, BRC, IFS and other international standards.
—
Audits to evaluate work procedures and define actions for continuous improvement of processes, with a focus on efficiency, quality, safety and environmental impact.
Do you want more information?
We help you
In accordance with Regulation 2016/679 (GDPR) the basic information on personal data protection is provided below:
- Data controller: PROQUIMIA, S.A.
- Purpose of processing: Managing the sending of information, resolving queries and/or collecting data for possible business relationships.
- Legal Basis: Consent of the person concerned
- Recipients: No data will be transferred to third parties, unless this is legally obliged.
- Rights: Access, rectification, deletion, opposition, limitation, portability and presentation of claims.
- Additional information: Additional and detailed information on Data Protection can be found on our website: Privacy policy
Do you want more information?
We help you