AEMPS (Spanish Agency for Medicines and Health Products) includes the products VITA ASEPGEL and VITA ASEPSOL on the list of antiseptic products with virucidal properties
The two products manufactured by Proquimia are included in the latest version of the document.
This list includes the products which have proved effective against the coronavirus based on the UNE-EN 14476 standard.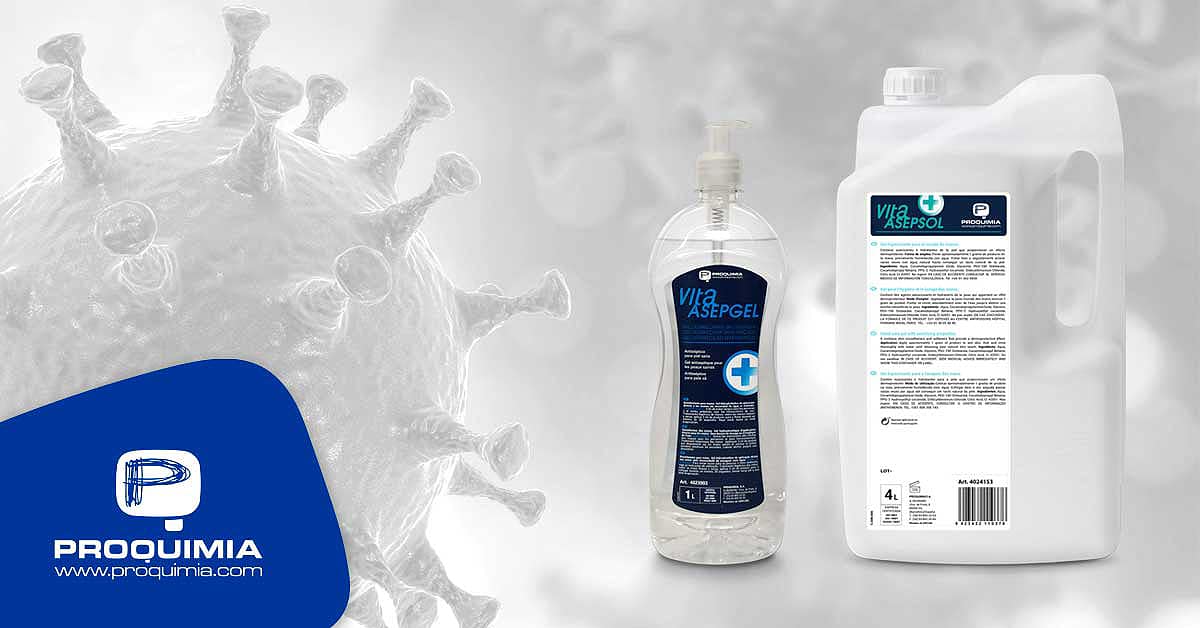 Proquimia's VITA ASEPGEL and VITA ASEPSOL have been included on the official list of antiseptic products for healthy skin that the Spanish Agency for Medicines and Health Products (AEMPS) has established since the start of the pandemic. These products are recognized as having virucidal properties against the coronavirus.
VITA ASEPGEL and VITA ASEPSOL have already been included in the document updated on May 6, using the new formulation of the two products which increases the proportion of ethanol as an active ingredient to 79.2%.
VITA ASEPGEL and VITA ASEPSOL comply with the whole of UNE-EN 14476 standard certifying effectiveness against any type of virus and particularly against coronavirus.
Proquimia has made available to its customers the Safety Data Sheet (MSDS) and the Technical Data Sheet for the two products updated in the private platform MyProquimia.
Hydroalcoholic gels for cosmetic use vs hydroalcoholic gels for biocidal use
There are two types of hydroalcoholic gels on the market: those for cosmetic use (to cleanse and wash the skin) and those for biocidal use (with an antimicrobial or viral disinfection action), with differentiated properties:
Hydroalcoholic gels for cosmetic use: their purpose is to cleanse or wash the skin, especially when there is no rinsing with water. This type of product is regulated by regulation 1223/2009 on cosmetic products.
Hydroalcoholic gels with biocidal action: the purpose of this type of hydroalcoholic gels is to protect human health through a biocidal action, such as disinfection or an antimicrobial or viral action. They are subject to the regulations on biocidal products.
All hydroalcoholic gels with biocidal action must have an authorization from the AEMPS as has VITA ASEPGEL, a hydroalcoholic gel with biocidal action.
Do you want more information?
We help you
In accordance with Regulation 2016/679 (GDPR) the basic information on personal data protection is provided below:
- Data controller: PROQUIMIA, S.A.
- Purpose of processing: Managing the sending of information, resolving queries and/or collecting data for possible business relationships.
- Legal Basis: Consent of the person concerned
- Recipients: No data will be transferred to third parties, unless this is legally obliged.
- Rights: Access, rectification, deletion, opposition, limitation, portability and presentation of claims.
- Additional information: Additional and detailed information on Data Protection can be found on our website: Privacy policy