Posted on
The most sustainable systems produced by Proquimia, XOP and ECOCONPACK
The most sustainable systems produced by Proquimia, XOP and ECOCONPACK, confirm their ecological nature also in terms of the generation of greenhouse gas emissions, presenting the smallest carbon footprint among hygiene products on the institutional market.
In late 2013, Proquimia introduced a methodology to measure and report all greenhouse gas emissions with the intention of first pointing out and then reducing the impact on the environment caused by our activity, creating a line of action within the company's environmental policy.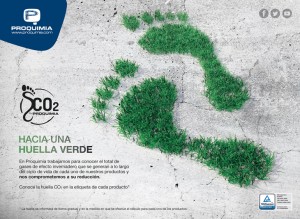 The first measuring of our products showed that XOP and ECOCONPACK have the lower carbon footprint values, compared to other commonly used products, becoming the most ecological system on the market.
The analyses of the whole life cycle until the final use performed on both systems showed that XOP and ECOCONPACK reduce greenhouse gas emissions by more than 75 % compared to other commonly used systems.
With these results in hand and specifically with the systems XOP and ECOCONPACK, Proquimia remains committed to a sustainable and responsible growth in social and environmental issues, strengthening its leadership in this industry with regard to fight against climate change.