SWITCH TO FOAM AND SAVE ON THE COSTS OF HAND WASHING AND CARE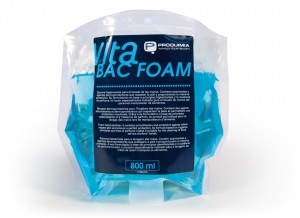 Proquimia expands its range of VITA personal hygiene, with the launch of VITABAC FOAM, a product designed to provide a good, safe and easy cleaning, with the greatest respect and care for the skin. Note that the unscentedproduct is particularly suitable for hand hygiene of food handling staff with its remnant sanitizing principles and odorless.
Developed with foam technology by Proquimia, the product allows a twice or three times lower dosing than that of a conventional hand gel with the corresponding savings on cost and production. In addition, the packaging in a bag makes the product more convenient and easy to handle by the responsible for maintenance without forgetting its easy application.
This new version raises the range of VITA personal care to 12 products, of which two are based on FOAM technology: VITA FOAM, foam with exotic fragrance, gentle on the skin, as well as the new VITABAC FOAM.
Do you want more information?
We help you
In accordance with Regulation 2016/679 (GDPR) the basic information on personal data protection is provided below:
- Data controller: PROQUIMIA, S.A.
- Purpose of processing: Managing the sending of information, resolving queries and/or collecting data for possible business relationships.
- Legal Basis: Consent of the person concerned
- Recipients: No data will be transferred to third parties, unless this is legally obliged.
- Rights: Access, rectification, deletion, opposition, limitation, portability and presentation of claims.
- Additional information: Additional and detailed information on Data Protection can be found on our website: Privacy policy
Do you want more information?
We help you