Effectiveness, efficiency and sustainability guaranteed for the pre-treatment of metal surfaces with nanotechnology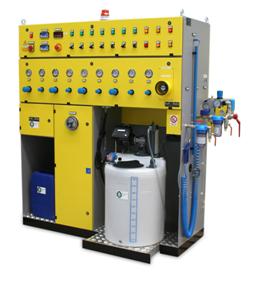 Proquimia presents SOFT RAIN, the most advances spray application system on the market for nanotechnology pre-treatment of metal surfaces prior to the painting process. This innovative device improves the performance of installation and final product quality, optimizing costs and minimizing environmental impact.
 SOFT RAIN system is integrated at the end of the tunnel pre-treatment and ensures consistent quality over time with a minimum use of nanotechnology products. This is possible thanks to the application by spraying the nano- solution on the parts to be treated, always assuring a correct concentration and a minimum coating of product on the metal surface.
It also incorporates a self-cleaning system which keeps  the spray circuit perfectly clean by recovering the liquid that is located within the tubes and pumps, in the inner tank, minimizing the maintenance cost and waste generation.
The use of SOFT RAIN system, together with the nano product  PL1556, significantly improves the corrosion resistance of the treated surfaces, reaching values ​​in neutral salt spray chamber exceeding 500 hours.
 SOFT RAIN is a new step in the evolution of systems for pre-treatment of metal surfaces, capable of responding to current needs of the industry, providing the market with a trustworthy solution and ensuring the profitability and sustainability of our customers' processes.
'High quality, cost optimization and less environmental impact'
SOFT RAIN … commitment to the future!
Do you want more information?
We help you
In accordance with Regulation 2016/679 (GDPR) the basic information on personal data protection is provided below:
- Data controller: PROQUIMIA, S.A.
- Purpose of processing: Managing the sending of information, resolving queries and/or collecting data for possible business relationships.
- Legal Basis: Consent of the person concerned
- Recipients: No data will be transferred to third parties, unless this is legally obliged.
- Rights: Access, rectification, deletion, opposition, limitation, portability and presentation of claims.
- Additional information: Additional and detailed information on Data Protection can be found on our website: Privacy policy
Do you want more information?
We help you