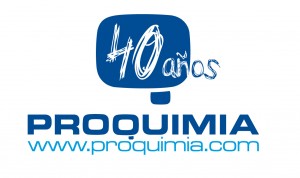 Proquimia SA, a Catalan multinational manufacturer of special chemical products for numerous applications in the field of hygiene and chemical industry processes, celebrates the 40th anniversary of its founding. We have become one of the strongest established companies in Spain where we have consolidated our position as leader in this industry and ended the financial period 2010 with a group turnover of € 60 million and a team of more than 350 employees.
The path followed by Proquimia over these 40 years and the market recognition are the best confirmation of having successfully overcome the challenge of generational change made several years ago, carrying out an internal reorganization firmly committed and customer oriented, and pursuing innovation and sustainability as core values of the company. Not to mention the effort, motivation and commitment shown daily throughout the years by its entire staff, the most important value and a key element of Proquimia.
Besides the commemoration of the 40th anniversary, Proquimia will be celebrating its 1st International Convention bringing together representatives from the 17 countries where the company is represented. This meeting of Proquimia Group is the recognition of the international trade expansion policy pursued by the company, proving the good job done and the high level of cooperation and commitment achieved in all countries.
The forthcoming events will begin next Wednesday at the Hotel Montanyà in Seva (Barcelona province) where the main strategies to follow will be set, the company's new corporate image and the new website will be presented. The participants will be given new technology guidelines, software and hardware for the commercial network.
These events will culminate in a big party with all employees next Friday, 18th November 2011.
Do you want more information?
We help you
In accordance with Regulation 2016/679 (GDPR) the basic information on personal data protection is provided below:
- Data controller: PROQUIMIA, S.A.
- Purpose of processing: Managing the sending of information, resolving queries and/or collecting data for possible business relationships.
- Legal Basis: Consent of the person concerned
- Recipients: No data will be transferred to third parties, unless this is legally obliged.
- Rights: Access, rectification, deletion, opposition, limitation, portability and presentation of claims.
- Additional information: Additional and detailed information on Data Protection can be found on our website: Privacy policy
Do you want more information?
We help you