PROQUIMIA SPONSORS THE AECOC CONGRESS
Proquimia participated in the XI AECOC Congress on Food Safety and Nutrition as a Sponsor of a conference, which took place in Madrid, on the 6th March.
Carles Verdés, Head of Proquimia Food Safety, presented the sponsored conference "The need to innovate in Food Safety and Nutrition. Where are we heading to?" given by Laura Valle (ITENE Technician on food contact materials and cosmetics), and by Emilio Martínez de Victoria (Professor of Physiology at the University of Granada and Chairman of the Scientific Committee AECOSAN).
The congress brought together the heads of the areas of Quality, Food Safety and Nutrition of the major Food Companies and Public Institutions from Spain.
The host association of the event was AECOC, Asociación Española de Codificación Comercial (Spanish Association of Commercial Coding), one of the largest business associations in our country with over 25.000 members, who's aim is to unite manufacturers and distributors.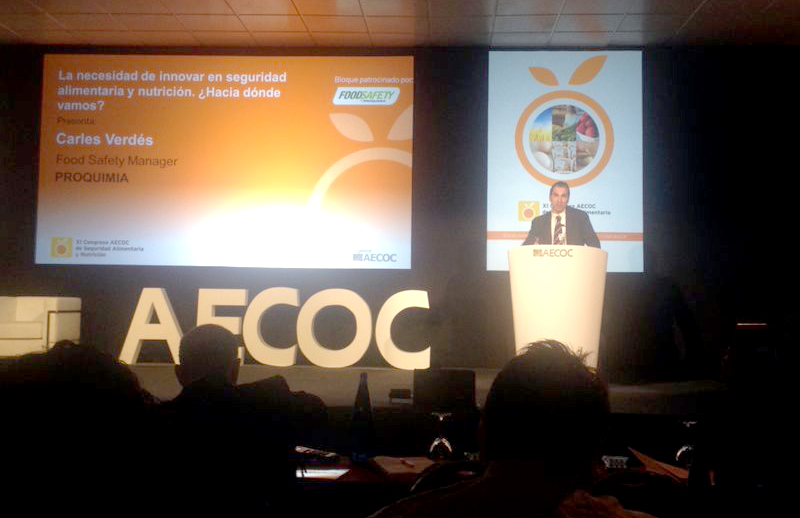 Do you want more information?
We help you
In accordance with Regulation 2016/679 (GDPR) the basic information on personal data protection is provided below:
- Data controller: PROQUIMIA, S.A.
- Purpose of processing: Managing the sending of information, resolving queries and/or collecting data for possible business relationships.
- Legal Basis: Consent of the person concerned
- Recipients: No data will be transferred to third parties, unless this is legally obliged.
- Rights: Access, rectification, deletion, opposition, limitation, portability and presentation of claims.
- Additional information: Additional and detailed information on Data Protection can be found on our website: Privacy policy
Do you want more information?
We help you