PROQUIMIA PRESENTS THE SUSTAINABILITY REPORT FOR THE THIRD YEAR IN A ROW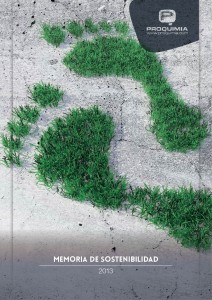 Proquimia presents the "Sustainability Report 2013" and confirms its commitment to society and its contribution to sustainable development.
This report presents the annual results and the initiatives taken by our company in 2013 with the aim to improve year after year activities carried out on job and sustainability related issues as well as in the social and economic fields.
"We want to carry on being a company that contributes to the positive development of our environment and that generates an economic activity creating jobs and opportunities within the framework of a sustainable policy with a long-term view", says  Mister Carles Onyós de Plandolit, General Manager of Proquimia.
Do you want more information?
We help you
In accordance with Regulation 2016/679 (GDPR) the basic information on personal data protection is provided below:
- Data controller: PROQUIMIA, S.A.
- Purpose of processing: Managing the sending of information, resolving queries and/or collecting data for possible business relationships.
- Legal Basis: Consent of the person concerned
- Recipients: No data will be transferred to third parties, unless this is legally obliged.
- Rights: Access, rectification, deletion, opposition, limitation, portability and presentation of claims.
- Additional information: Additional and detailed information on Data Protection can be found on our website: Privacy policy
Do you want more information?
We help you