Proquimia presents a badge for facilities protected against COVID-19
This badge certifies that the premises have been disinfected with duly authorized and registered products against coronavirus according to professional protocols designed by Proquimia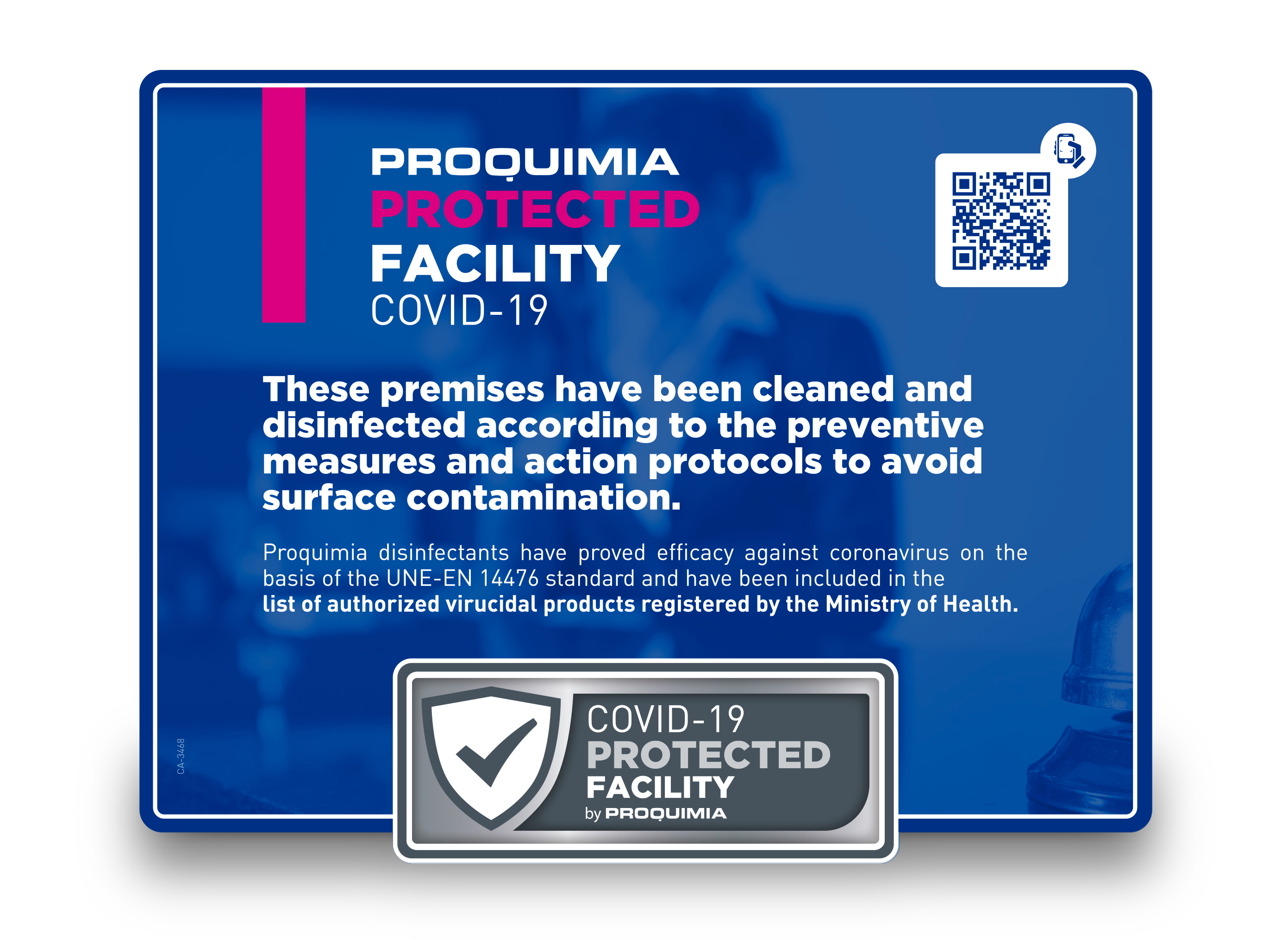 The crisis generated by COVID-19 has increased attention to the cleaning and disinfection processes that are carried out in companies and institutional areas, as a measure to reassure customers, workers and collaborators.
As a response to this concern, Proquimia has created a badge designed to prove that the premises have been disinfected following the preventive measures and action protocols designed by Proquimia to avoid surface contamination.
Besides, this badge certifies that Proquimia disinfectant products have been used. These products have proved efficacy against coronavirus based on the UNE-EN 14476 standard and have been included in the list of virucidal products authorized and registered by the Ministry of Health.
In this way, Proquimia, as a benchmark in the field of hygiene and industrial chemical treatments with almost 50 years of experience, wants to support the society and the business world that are directly or indirectly affected by the pandemic.
All information on authorized disinfectant products, cleaning and disinfection protocols by sector and documents created by Proquimia related to COVID-19 can be found at www.proquimia.com/covid19/.
Do you want more information?
We help you
In accordance with Regulation 2016/679 (GDPR) the basic information on personal data protection is provided below:
- Data controller: PROQUIMIA, S.A.
- Purpose of processing: Managing the sending of information, resolving queries and/or collecting data for possible business relationships.
- Legal Basis: Consent of the person concerned
- Recipients: No data will be transferred to third parties, unless this is legally obliged.
- Rights: Access, rectification, deletion, opposition, limitation, portability and presentation of claims.
- Additional information: Additional and detailed information on Data Protection can be found on our website: Privacy policy
Do you want more information?
We help you