PROQUIMIA opens a new cosmetic product manufacturing facility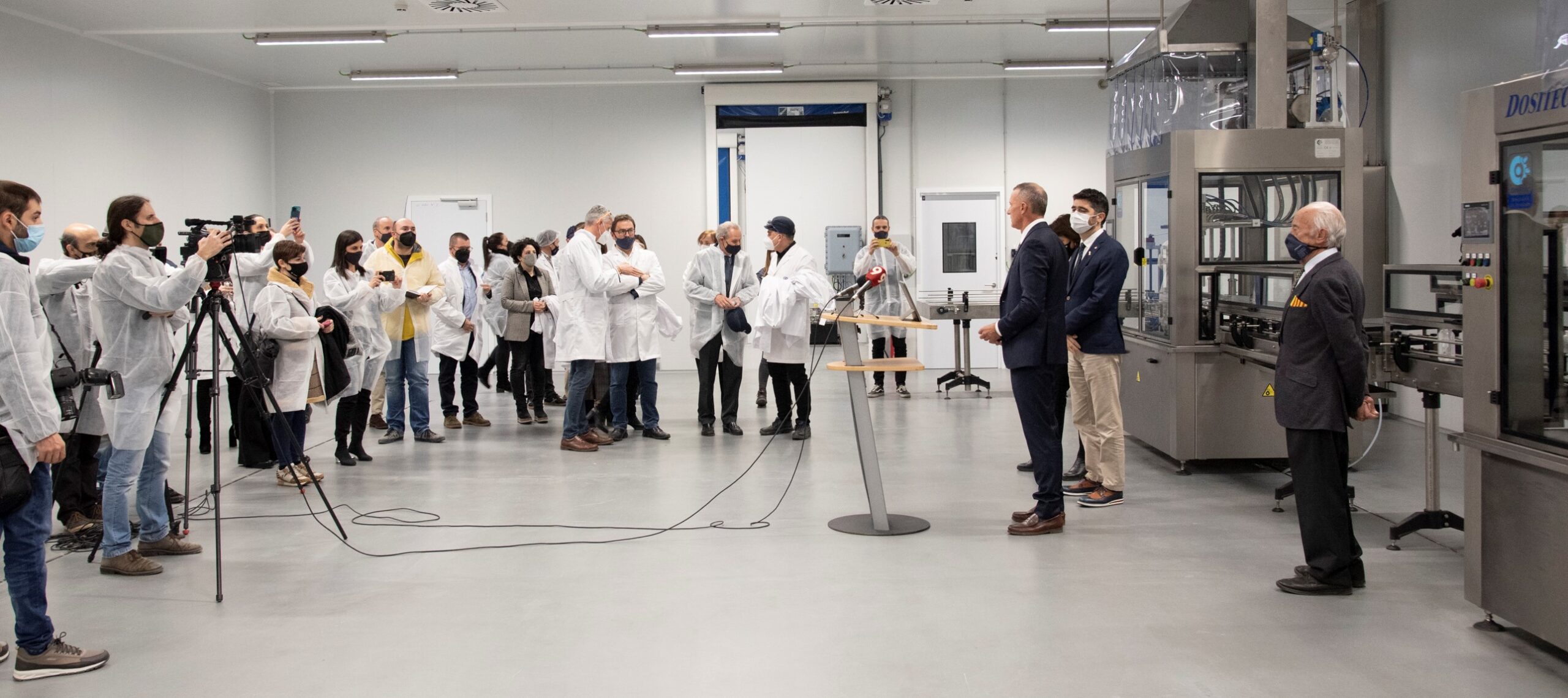 PROQUIMIA is starting up a new cosmetic product manufacturing plant that opens new paths for the company's diversification and growth.
With an investment of €1.5m, PROQUIMIA is opening a new CLEAN ROOM for the manufacture of personal hygiene products with a production capacity of up to 3,000 tons per year.
The pandemic that we have endured over these last two years has mainly affected the tourist market, a sector accounting for a significant part of PROQUIMIA's turnover. For this reason, and with the aim of diversifying and seeking new, less seasonal and less sensitive markets, PROQUIMIA has invested in a new cosmetics manufacturing plant.
Manufacturing this type of product requires facilities that are adapted to the regulations for the manufacture of hand hygiene products and that respect the GMP cosmetics standards. It should be noted that PROQUIMIA's personal hygiene products also feature the ECOLABEL sticker, which guarantees maximum respect for the environment throughout the product's production cycle and reaffirms sustainability as one of PROQUIMIA's strategic axes.
This new facility also opens up new opportunities for the future, as it will allow us to access open up new markets such as the hospital sector. With this new facility we will be able to manufacture hospital disinfectants as well as detergent and disinfectant products for medical instruments, pending the corresponding authorisation from the AEMPS (the Spanish Agency for Medicines and Medical Devices). PROQUIMIA's R&D department is already working on the development of these products from the new range. We are simultaneously working to implement the ISO 13485 standards for the manufacture of medical devices.
The Honourable Vice-President of the Catalan Government and Minister of Digital Policies and Territory, Jordi Puigneró, opened the new personal hygiene product manufacturing plant last Thursday (January 20). The event was also attended by the Mayoress of Vic, Ms. Anna Erra, and other officials.
The Vice-President and other officials, accompanied by PROQUIMIA's management team, toured the laboratory and the current production facilities before arriving at the new cosmetics area.
Since its beginnings, PROQUIMIA has always been a company committed to diversification. We are currently present in 4 major markets: Institutional Hygiene (covering the tourism, care home and restaurant sectors), the Food Industry (covering the industrial food sector), Chemical Technologies (covering metal surface treatment, transport and maintenance and water treatment and management), and during this past year we have acquired Careli, which offers cleaning products for the consumer market. We also have an export division that diversifies geographically.
Do you want more information?
We help you
In accordance with Regulation 2016/679 (GDPR) the basic information on personal data protection is provided below:
- Data controller: PROQUIMIA, S.A.
- Purpose of processing: Managing the sending of information, resolving queries and/or collecting data for possible business relationships.
- Legal Basis: Consent of the person concerned
- Recipients: No data will be transferred to third parties, unless this is legally obliged.
- Rights: Access, rectification, deletion, opposition, limitation, portability and presentation of claims.
- Additional information: Additional and detailed information on Data Protection can be found on our website: Privacy policy
Do you want more information?
We help you