PROQUIMIA develops an IoT platform
Since the arrival of the Internet in our lives, it has evolved in a fast and overwhelming way. In recent years, much has been said the IoT (Internet of Things), being rather than a commitment to the future, an absolute reality for companies.
PROQUIMIA is firmly committed to the development of the IoT as one of the main strategic pillars of innovation, currently applied in several dosing and control systems.
PROGUARD is Proquimia's IoT platform that allows, remotely and at real time, to monitor equipment and operations, offering the possibility of registering, processing and analyzing a large amount of information related to the behaviour of a process.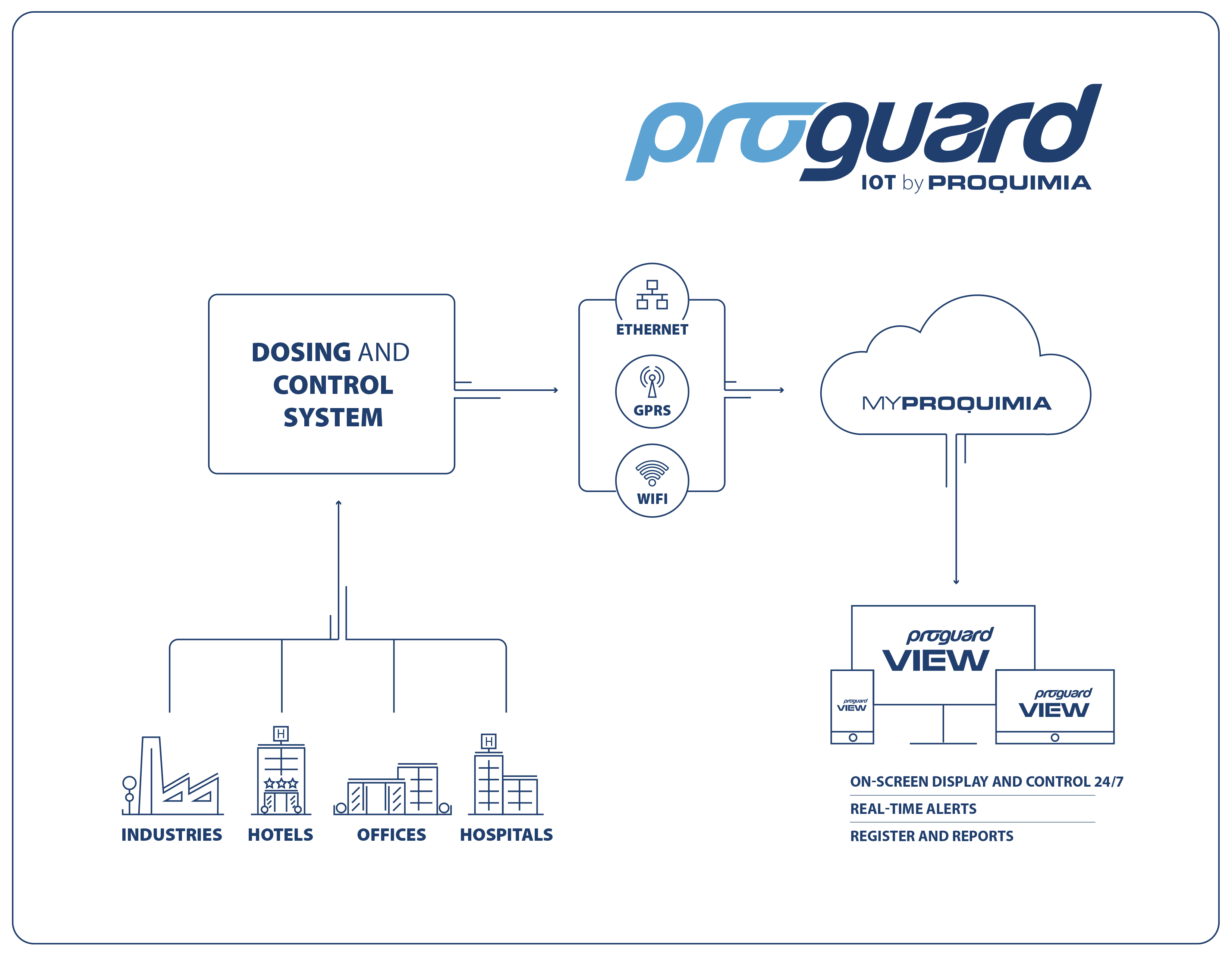 The data collection and its subsequent analysis is the differentiating factor of PROGUARD: it allows optimizing operations, detecting incidents and making immediate decisions, transforming itself into an essential instrument to carry out a proactive and predictive control of the process.
To guarantee success in the implementation of the PROGUARD system, Proquimia uses the most appropriate software and hardware to configure the 4 main modules of the system:
Equipment for the monitoring process, including the appropriate sensor to each selected control parameter.
Internet connection system (GPRS, Ethernet, WIFI…)
Platform (cloud) where the digital information is being recorded and stored.
Web application to remotely control the system. Allows an intuitive on-screen display of the registered data that is organized through key indicators for decision-making and detection of incidents. (Proguard View)
The system, through its web portal of on-screen display PROGUARD VIEW, accessible 24/7 via PC, tablets or mobile phones, offers intuitive dashboards that allow users a remote, simple and immediate control of the process, which results in multiple benefits: improvement of quality standards and productivity, legal and regulatory compliance, reduction of operating costs, progress of sustainability, expansion of brand image, etc.
Do you want more information?
We help you
In accordance with Regulation 2016/679 (GDPR) the basic information on personal data protection is provided below:
- Data controller: PROQUIMIA, S.A.
- Purpose of processing: Managing the sending of information, resolving queries and/or collecting data for possible business relationships.
- Legal Basis: Consent of the person concerned
- Recipients: No data will be transferred to third parties, unless this is legally obliged.
- Rights: Access, rectification, deletion, opposition, limitation, portability and presentation of claims.
- Additional information: Additional and detailed information on Data Protection can be found on our website: Privacy policy
Do you want more information?
We help you