Proquimia acquires 100 % shares of Proquimia Chile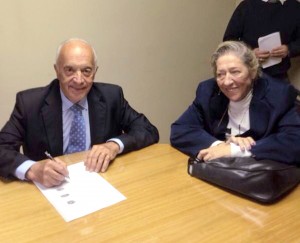 Proquimia, Spanish multinational manufacturer of specialized chemical products in the field of hygiene and industrial chemical treatments, has acquired 100% shares of the company Proquimia Chile.
Proquimia Chile, founded in 1976 as a brand franchise of the Spanish parent company, has facilities of 1,460 m2 comprising the production unit, warehouse and offices, located in the municipality of Independencia (Santiago de Chile). The company is present in institutional markets, food industry and surface treatment and is well established in the country.
Proquimia, owner of 51% of the shares since 2007, confirms by this acquisition its commitment to international expansion and strengthens its presence in the South American country in order to optimize and increase the Chilean market by developing its business model.
The signing took place in the premises of the company located at Independencia in the presence of Josep M ª Onyos of Plandolit i Serrabou, President of Proquimia and Mrs. Margarita Hormazábal, widow of Mr. Alejandro Cabello, founder of Proquimia Chile.
Do you want more information?
We help you
In accordance with Regulation 2016/679 (GDPR) the basic information on personal data protection is provided below:
- Data controller: PROQUIMIA, S.A.
- Purpose of processing: Managing the sending of information, resolving queries and/or collecting data for possible business relationships.
- Legal Basis: Consent of the person concerned
- Recipients: No data will be transferred to third parties, unless this is legally obliged.
- Rights: Access, rectification, deletion, opposition, limitation, portability and presentation of claims.
- Additional information: Additional and detailed information on Data Protection can be found on our website: Privacy policy
Do you want more information?
We help you