OVENMATIC, Proquimia's solution for the cleaning of automatic ovens
The company presents a new range for automatic ovens, composed of a degreasing detergent, OVENMATIC Cleaner, and an oven rinse aid, OVENMATIC RINSE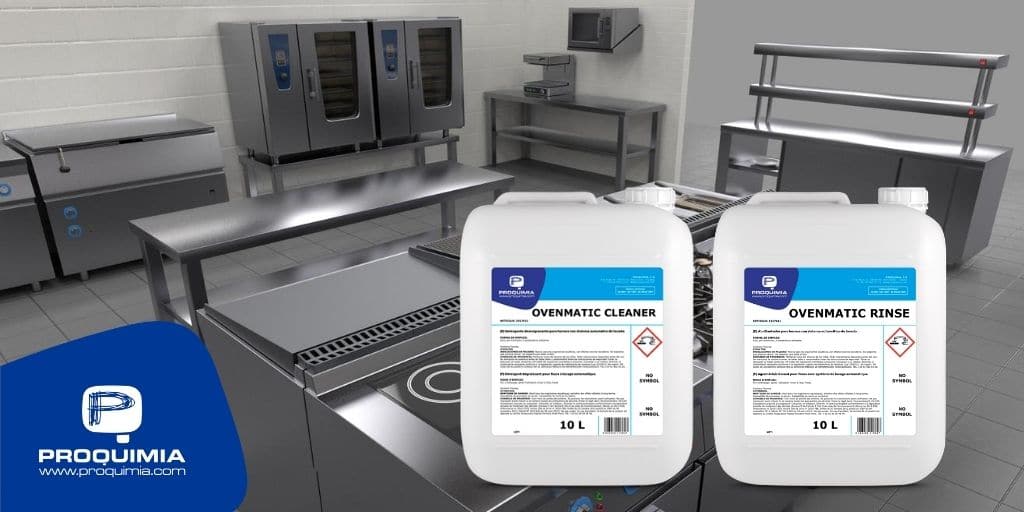 Proquimia launches a new range of products designed for the cleaning of automatic ovens. Under the name of OVENMATIC, it is composed of a degreasing detergent and a high performance rinse aid.
OVENMATIC Cleaner is the degreasing detergent of the range, it stands out for its effectiveness against burnt fats and carbonised residues on all types of surfaces, even porous or rough, as well as achieving a perfect finish thanks to the combination of alkaline, sequestering and surfactant agents. OVENMATIC Cleaner does not leave any residue, thus avoiding possible food contamination.
The other product in the range, OVENMATIC Rinse, is a rinse aid with great dampening power and an acidic nature, which helps to regulate the final pH of the cleaning process, neutralising the alkalinity of the detergent. Its controlled foam facilitates subsequent rinsing, leaving no residue.
Both products are dosed automatically by the dosing systems integrated in the ovens.
Do you want more information?
We help you
In accordance with Regulation 2016/679 (GDPR) the basic information on personal data protection is provided below:
- Data controller: PROQUIMIA, S.A.
- Purpose of processing: Managing the sending of information, resolving queries and/or collecting data for possible business relationships.
- Legal Basis: Consent of the person concerned
- Recipients: No data will be transferred to third parties, unless this is legally obliged.
- Rights: Access, rectification, deletion, opposition, limitation, portability and presentation of claims.
- Additional information: Additional and detailed information on Data Protection can be found on our website: Privacy policy
Do you want more information?
We help you