THE NEW ECOCONPACK SOLUTION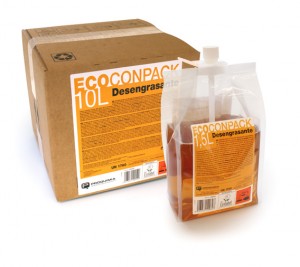 Proquimia, specialists in the field of Institutional Health, presents the new solution …ECOCONPACK, innovation, technology, commitment to the future and respect for the environment in one concept. The ECOCONPACK system is based on a range of highly concentrate products and very efficient equipments which make cleaning and disinfection an easy job. It is the most ecological solution in the market and offers the following advantages:
Saving for business
Cost and implementation control, avoiding waste of product and non-quality costs
Minimization of waste management costs, reduced more than 95% compared to traditional systems
Optimizing transport and storage costs, diminishing them down to 75%
User convenience
Dosing equipments, simple and easy to use
Longer time between refilling cycles due to high concentrate products
Takes up a minimum space at the workplace
Commitment to safety
Non-reusable bags that prevent the transfer of product and eliminate possible contamination
Minimization of occupational risks for the user due to load weight reduction
Environmentally friendly
Range of products with Eco-label certification (Ecological European Label)
More than 95 % decrease of the amount of plastic waste
ECOCONPACK symbolizes a further step in the evolution of health systems, meeting the current industry needs, providing the market with a comprehensive and reliable solution ensuring efficiency and sustainability of the processes carried out by our customers.
For more information write to evolucionverde@proquimia.com or phone +34 93 8814118
Do you want more information?
We help you
In accordance with Regulation 2016/679 (GDPR) the basic information on personal data protection is provided below:
- Data controller: PROQUIMIA, S.A.
- Purpose of processing: Managing the sending of information, resolving queries and/or collecting data for possible business relationships.
- Legal Basis: Consent of the person concerned
- Recipients: No data will be transferred to third parties, unless this is legally obliged.
- Rights: Access, rectification, deletion, opposition, limitation, portability and presentation of claims.
- Additional information: Additional and detailed information on Data Protection can be found on our website: Privacy policy
Do you want more information?
We help you