Sustainability Report 2012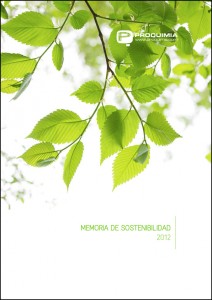 Proquimia presents its Sustainability Report 2012, once again reaffirming its commitment and responsibility towards society.
In this report we present the company's results for 2012 in social, environmental and economic terms. This translates into an exercise in transparency that seeks to communicate to all stakeholders (employees, customers, suppliers, community …) the most significant actions taken during the year, and their contribution to sustainable development.
The presentation of our second Sustainability Report confirms our commitment to a more efficient management of our resources, becoming a more profitable, competitive and responsible enterprise, which increasingly enhances and integrates sustainability issues in each of their activities.
Access our Sustainability Report 2012 (only available in Spanish)
Do you want more information?
We help you
In accordance with Regulation 2016/679 (GDPR) the basic information on personal data protection is provided below:
- Data controller: PROQUIMIA, S.A.
- Purpose of processing: Managing the sending of information, resolving queries and/or collecting data for possible business relationships.
- Legal Basis: Consent of the person concerned
- Recipients: No data will be transferred to third parties, unless this is legally obliged.
- Rights: Access, rectification, deletion, opposition, limitation, portability and presentation of claims.
- Additional information: Additional and detailed information on Data Protection can be found on our website: Privacy policy
Do you want more information?
We help you