SHA "Hygiene Spray Answer"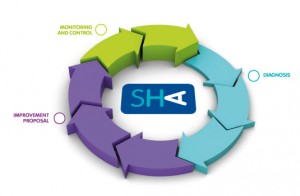 Proquimia introduces SHA, the hygiene spray solution for box washing tunnels, molds, kitchen carts and utensils, most appropriate to the specific needs and requirements of our customers.
With this release, Proquimia offers three hygiene formulas which combine detergent and disinfectant products with dosing systems and controls that ensure process optimization:
• SHAFormula Standard ensures detergent action.
• SHAFormula Optimal ensures detergency and disinfection.
• SHAFormula Plus ensures detergent and disinfectant action for the most demanding needs in hygiene.
With a wide range of technologically advanced products, approved and registered in accordance with the regulations in force, along with an engineering system designed specifically for the application, Proquimia strengthens its role as partner for companies in this industry, providing the best solution for maximum efficiency with minimum resources.
Do you want more information?
We help you
In accordance with Regulation 2016/679 (GDPR) the basic information on personal data protection is provided below:
- Data controller: PROQUIMIA, S.A.
- Purpose of processing: Managing the sending of information, resolving queries and/or collecting data for possible business relationships.
- Legal Basis: Consent of the person concerned
- Recipients: No data will be transferred to third parties, unless this is legally obliged.
- Rights: Access, rectification, deletion, opposition, limitation, portability and presentation of claims.
- Additional information: Additional and detailed information on Data Protection can be found on our website: Privacy policy
Do you want more information?
We help you