Proquimia receives the award for Corporate Social Responsibility from the Chamber of Commerce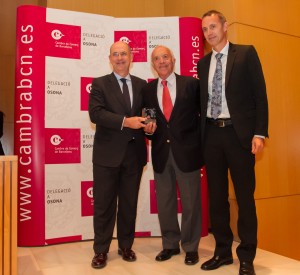 Proquimia has been chosen because of its entrepreneurship in the area of research and development projects aimed at reducing the environmental impact.
Proquimia's sustainability report has been the key tool for achieving this distinction.
The delegation of the Chamber of Commerce of Barcelona presented, as part of the Day of the Osona Chamber of Commerce, the "Chamber" award in various fields.Proquimia is honored with the Award for Corporate Social Responsibility.
This award especially recognizes the pioneering task accomplished through development projects aimed at reducing the risks and ecological impact of the products of the company, carried out in close collaboration with universities and research centers.

These projects have resulted in significant improvements in packaging, dosing systems and the composition of products, developing products with Ecolabel certification and low carbon footprint. Specific examples include the investigation of alternatives to phosphates, chromium and methylene chloride for metal surface treatments, replacement of the complexing agent NTA found in detergents by other ingredients with a better ecotoxicological profile, or using enzyme technology for washing textiles at low temperatures.
Do you want more information?
We help you
In accordance with Regulation 2016/679 (GDPR) the basic information on personal data protection is provided below:
- Data controller: PROQUIMIA, S.A.
- Purpose of processing: Managing the sending of information, resolving queries and/or collecting data for possible business relationships.
- Legal Basis: Consent of the person concerned
- Recipients: No data will be transferred to third parties, unless this is legally obliged.
- Rights: Access, rectification, deletion, opposition, limitation, portability and presentation of claims.
- Additional information: Additional and detailed information on Data Protection can be found on our website: Privacy policy
Do you want more information?
We help you