Proquimia is expanding its range of water-soluble film products with XOP SUPERFICIES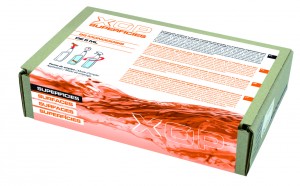 Proquimia is expanding its range of XOP, the concentrated products in water-soluble film, with a new product: XOP SUPERFICIES: multi-purpose detergent with sanitizing properties with lower usage cost. It is the most ecological product on the market. Suitable for all kinds of surfaces and floors.
The product was developed based on the following advantages:
Lower RTU cost, liter of prepared product, on the market
Reduced packaging (box of 25 units), Minimal investment.
Improved handling and control over the units.
With all the benefits of the range XOP:
Cost control
Convenient and easy to use
Work safety, without product handling or loading weight.
Space savings
Maximum respect for the environment, 100 % recyclable packaging.
XOP, pioneer brand on the market with over eight years of experience, is already composed of 11 products for the general cleaning, including floor cleaners, detergents and descalers for bathroom surfaces, air fresheners, multi-purpose cleaners, detergents for dishwashers and specially formulated detergents with laundry softeners.
Again, Proquimia strengthens its commitment to the environment and to the concentrated and technologically advanced products providing optimal comfort and efficiency on its clients' cleaning processes.
Do you want more information?
We help you
In accordance with Regulation 2016/679 (GDPR) the basic information on personal data protection is provided below:
- Data controller: PROQUIMIA, S.A.
- Purpose of processing: Managing the sending of information, resolving queries and/or collecting data for possible business relationships.
- Legal Basis: Consent of the person concerned
- Recipients: No data will be transferred to third parties, unless this is legally obliged.
- Rights: Access, rectification, deletion, opposition, limitation, portability and presentation of claims.
- Additional information: Additional and detailed information on Data Protection can be found on our website: Privacy policy
Do you want more information?
We help you