Proquimia invests in new technology for the range XOP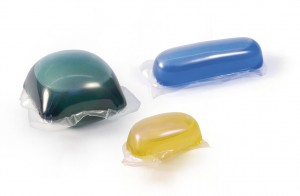 Proquimia invests in an advanced packaging machine, which confirms the company's commitment to innovation and sustainability as future values.
Proquimia, pioneer brand in water-soluble bags, with over 10 years experience in this technology, takes a further step offering a system of its own and with an innovative technology: stronger bags which dissolve faster, avoiding tears and delivering a safer and more effective use.
Based on the development of this new technology, XOP solution was updated and improved, not only in terms of packaging, but also with regard to the most effective formulations and a new packaging design: the most advanced water-soluble pouches on the market, which offer numerous advantages:
– Highly concentrated, biodegradable products
– Reduced use of raw materials, packaging and energy during production
– 75 % savings in CO2 emissions during transport
– No plastic packaging (water soluble pouches) and cardboard packaging
Cost control in every application
– Exact control over the consumed product. Same dosing every time
– No more waste management costs
– Safe handling with no direct contact with the chemical product
– Reduces loading weight by an 85 %
– Easier and more convenient (simply dissolves in water)
– Does not require installation or equipment
Reduces an 85 % storage room and transport costs
– Reduced volume, thanks to its high concentration formula
Proquimia's investment in this new technology combining the use of eco-friendly cleaning products and the replacement of plastic packaging by those water-soluble film raise a new generation of differentiated products that create technological barriers against competition providing a high competitive ability in the current market of institutional hygiene and contributing with a comprehensive solution for the most demanding consumers.
Do you want more information?
We help you
In accordance with Regulation 2016/679 (GDPR) the basic information on personal data protection is provided below:
- Data controller: PROQUIMIA, S.A.
- Purpose of processing: Managing the sending of information, resolving queries and/or collecting data for possible business relationships.
- Legal Basis: Consent of the person concerned
- Recipients: No data will be transferred to third parties, unless this is legally obliged.
- Rights: Access, rectification, deletion, opposition, limitation, portability and presentation of claims.
- Additional information: Additional and detailed information on Data Protection can be found on our website: Privacy policy
Do you want more information?
We help you