Proquimia designs a new fragrance for its AURA air-freshener collection: AURA TRUENO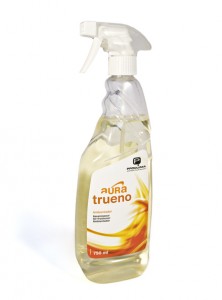 Proquimia widens its air-freshener collection with a new fragrance, AURA Trueno. The highly concentrated air-freshener is ideally suited for very stuffy atmospheres, delivering a pleasant scent of cleanliness.
This new liquid air freshener has a lasting fragrance of strong character, providing a refreshing burst of energy.
This new product completes the range of air-fresheners AURA, which now has seven fragrances: FUEGO, MAR, LUNA, PERSIST, NUBE, PURA and TRUENO, all of them distinguished for their unique perfume and stylish essences, creating welcoming and comfortable atmospheres.
Do you want more information?
We help you
In accordance with Regulation 2016/679 (GDPR) the basic information on personal data protection is provided below:
- Data controller: PROQUIMIA, S.A.
- Purpose of processing: Managing the sending of information, resolving queries and/or collecting data for possible business relationships.
- Legal Basis: Consent of the person concerned
- Recipients: No data will be transferred to third parties, unless this is legally obliged.
- Rights: Access, rectification, deletion, opposition, limitation, portability and presentation of claims.
- Additional information: Additional and detailed information on Data Protection can be found on our website: Privacy policy
Do you want more information?
We help you