MISTER ZIM The biological solution to eliminate bad odors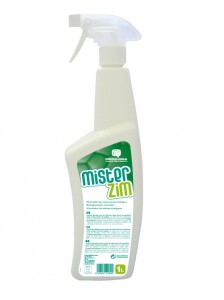 Given the need to prevent and remove odors which are caused by organic waste and / or physiological effects that permeate tissues or hard surfaces in nursing homes, kindergartens, etc. Proquimia launches MISTER ZIM.
MISTER ZIM is a biologically based odor control product that naturally removes odors without masking them.
Spray application is easy and convenient to all surfaces and fabrics.
Do you want more information?
We help you
In accordance with Regulation 2016/679 (GDPR) the basic information on personal data protection is provided below:
- Data controller: PROQUIMIA, S.A.
- Purpose of processing: Managing the sending of information, resolving queries and/or collecting data for possible business relationships.
- Legal Basis: Consent of the person concerned
- Recipients: No data will be transferred to third parties, unless this is legally obliged.
- Rights: Access, rectification, deletion, opposition, limitation, portability and presentation of claims.
- Additional information: Additional and detailed information on Data Protection can be found on our website: Privacy policy
Do you want more information?
We help you