Fresh scent fabric softener: Blanc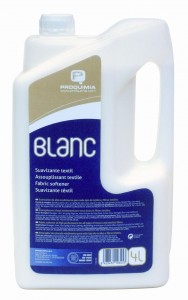 Proquimia presents: BLANC, a highly performing fabric softener with a long-lasting fresh scent, for all types of textile fibers and fabrics.
Blanc is part of a wide range of specific products for the textile hygiene, adapted to the current needs of the industry, ensuring the efficiency of our customers' processes, optimizing the resources and minimizing the impact on environment.
Do you want more information?
We help you
In accordance with Regulation 2016/679 (GDPR) the basic information on personal data protection is provided below:
- Data controller: PROQUIMIA, S.A.
- Purpose of processing: Managing the sending of information, resolving queries and/or collecting data for possible business relationships.
- Legal Basis: Consent of the person concerned
- Recipients: No data will be transferred to third parties, unless this is legally obliged.
- Rights: Access, rectification, deletion, opposition, limitation, portability and presentation of claims.
- Additional information: Additional and detailed information on Data Protection can be found on our website: Privacy policy
Do you want more information?
We help you