FIRST SUSTAINABILITY REPORT BY PROQUIMIA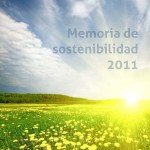 Proquimia, a multinational company specialized in the manufacturing and marketing of chemical specialties and providing solutions for industrial and institutional markets, proves once again its responsible character and consideration to future generations, presenting its first report on sustainable development.
This report was prepared as part of the "tRanSparEncy", promoted by the "Consell General de Cambres de Catalunya" (General Council of Chambers of Catalonia) with financial support from the SOC of the "Generalitat de Catalunya" (Catalan Government) and the European social Fund and the technical support of "Global Reporting Initiative" (GRI), which aims to promote the integration of social responsibility policies in the corporate supply chain.
After the implementation of the environmental management system in accordance with ISO standard 14001 in 2001, and a system of management of occupational risks in accordance with standard BS OHSAS 18001 in 2005, this memory is published with the purpose of informing and involving interest groups about the sustainable development of our society and the economic, social and environmental impact of our activities, laying the foundation and the path that will determine the future of the company.
Do you want more information?
We help you
In accordance with Regulation 2016/679 (GDPR) the basic information on personal data protection is provided below:
- Data controller: PROQUIMIA, S.A.
- Purpose of processing: Managing the sending of information, resolving queries and/or collecting data for possible business relationships.
- Legal Basis: Consent of the person concerned
- Recipients: No data will be transferred to third parties, unless this is legally obliged.
- Rights: Access, rectification, deletion, opposition, limitation, portability and presentation of claims.
- Additional information: Additional and detailed information on Data Protection can be found on our website: Privacy policy
Do you want more information?
We help you