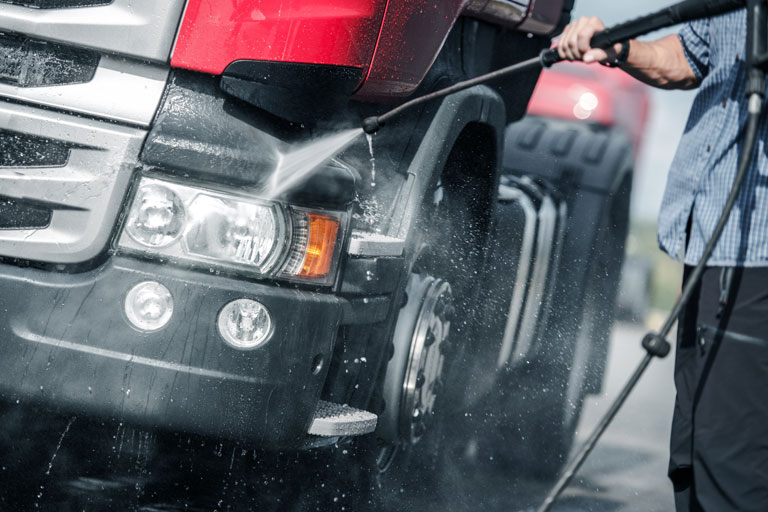 Cleaning products for
trucks, buses and heavy vehicles
Large vehicles accumulate larger amounts of dirt, which are also of different types, and therefore require a cleaning process with specific detergent products for the correct washing of these vehicles.
Assisted truck washing
Normally, the truck washing process is carried out in an assisted way, and consists of the application of a detergent with high degreasing power applied with a simple spray or in the form of active foam, by means of product dosing equipment that works by Venturi, such as TRANSLAV, or by the water pressure itself, such as DOSATRON.
Elimination of traffic film on trucks
The dirt that accumulates on all vehicles (traffic film), caused by car fumes and environmental pollution, presents greater difficulty in cleaning trucks and other heavy vehicles.
The film of grease and pollution that is created over time requires specific degreasing products, which are energetic against this type of dirt and careful with all the surfaces of these vehicles.
Cleaning of truck rims and engines
At PROQUIMIA we also have a range of specific products for cleaning truck rims, for a shiny finish, and truck engine cleaning products that provide an optimal result leaving the vehicle like new inside. These products restore the initial appearance and shine of the treated surfaces.
Do you want more information?
We help you
In accordance with Regulation 2016/679 (GDPR) the basic information on personal data protection is provided below:
- Data controller: PROQUIMIA, S.A.
- Purpose of processing: Managing the sending of information, resolving queries and/or collecting data for possible business relationships.
- Legal Basis: Consent of the person concerned
- Recipients: No data will be transferred to third parties, unless this is legally obliged.
- Rights: Access, rectification, deletion, opposition, limitation, portability and presentation of claims.
- Additional information: Additional and detailed information on Data Protection can be found on our website: Privacy policy
Do you want more information?
We help you