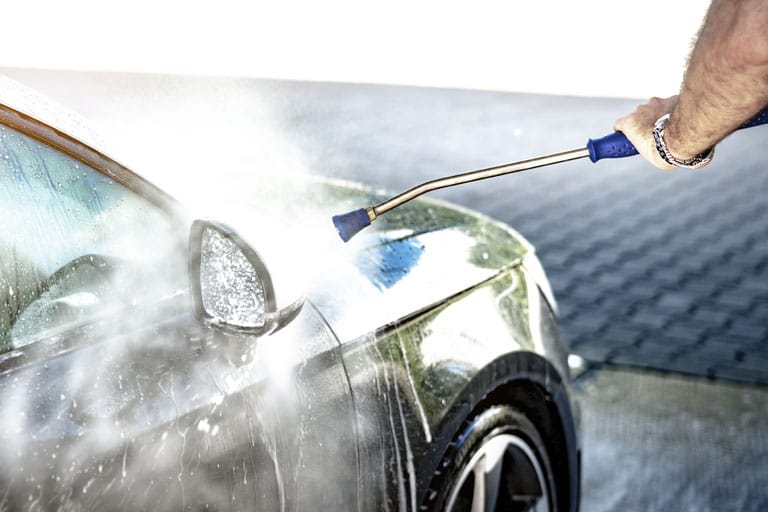 Comprehensive solution for
assisted vehicle cleaning
At PROQUIMIA we offer a complete range of solutions and products for the professional assisted cleaning of vehicles. We cover all parts of the cleaning process to obtain an optimal final result.
Assisted cleaning of car exteriors
Prewash: Cleaning of rims, insects and dust.
Active foam: Highly concentrated active foam detergent with high detergent and foaming power that removes all residues. Available in various colours.
Shampoo for brushes: Lubricates the brushes in the washing process and removes traffic film from the vehicle surface.
Wax: High-performance wax and hygrophobic wax that provide a dry and protected surface, simultaneously providing shine to the vehicle.
Polishing of exterior plastics and tyres. Products for cleaning and polishing of exterior plastics and tyres.
Cleaning of car interiors
Cleaning of glass: Professional products for cleaning glass without streaks and providing a clear view.
Cleaning of upholstery: Products for cleaning vehicle upholstery with injection-extraction machines or foam application.
Cleaning of dashboards and interior plastics of the vehicle: Cleaning products for dashboards and interior plastics to restore the initial shine of worn surfaces.
Polishing of Exterior plastics and tyres: Products with high polishing power for exterior plastics and tyres.
Air fresheners: Car air fresheners to deodorise the vehicle and create a more pleasant environment.
Do you want more information?
We help you
In accordance with Regulation 2016/679 (GDPR) the basic information on personal data protection is provided below:
- Data controller: PROQUIMIA, S.A.
- Purpose of processing: Managing the sending of information, resolving queries and/or collecting data for possible business relationships.
- Legal Basis: Consent of the person concerned
- Recipients: No data will be transferred to third parties, unless this is legally obliged.
- Rights: Access, rectification, deletion, opposition, limitation, portability and presentation of claims.
- Additional information: Additional and detailed information on Data Protection can be found on our website: Privacy policy
Do you want more information?
We help you