ECOTROPIC is an innovative system for the washing of all clothing, based on a single powder product for the washing and bleaching in one step, complemented with a range of auxiliary products for specific washing needs and automatic dosing: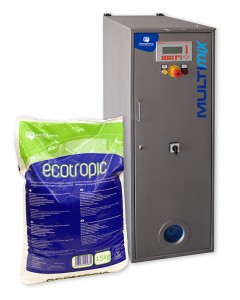 ECOTROPIC. Enzymatic solid detergent, highly concentrated, with long-lasting scent. Suitable for pre-wash and main wash of all laundry at low temperatures in very hard water conditions.
MULTIMIX. Compact automatic dosing equipment for powder. Allows accurate dosage both in washing machines and continuous batch washers.
This system provides a solution to the current needs of industrial laundry and OPL specially developed to offer the following advantages:
Savings for the laundry. ECOTROPIC achieves up to a 50% decrease in the total costs of washing programs and also brings savings in terms of energy and water consumption, life cycle of the garment and waste management.
Maximum efficiency in the washing process. The system provides a high detergent performance at low temperatures, optimal washing conditions in one step and accurate dosing with our MULTIMIX system.
Commitment to safety. Minimum handling of product, combined with more neutral use conditions as wells as the fact that vapour emissions are avoided, make ECOTROPIC the safest solution for the user.
Respect for the environment. The system ensures maximum sustainability by reducing the carbon footprint, minimizing plastic waste generated and being Ecolabel certified.
Do you want more information?
We help you
In accordance with Regulation 2016/679 (GDPR) the basic information on personal data protection is provided below:
- Data controller: PROQUIMIA, S.A.
- Purpose of processing: Managing the sending of information, resolving queries and/or collecting data for possible business relationships.
- Legal Basis: Consent of the person concerned
- Recipients: No data will be transferred to third parties, unless this is legally obliged.
- Rights: Access, rectification, deletion, opposition, limitation, portability and presentation of claims.
- Additional information: Additional and detailed information on Data Protection can be found on our website: Privacy policy
Do you want more information?
We help you